Edison Research discovers that weekends are made for listening to music
Edison Research's Share of Ear database shows that nearly three-quarters of daily audio time among people aged 13 and older in the United States is spent on music. For most people, most of the time, music is their audio choice. Weekdays and weekends may merge for some, as remote work has changed the lives of many commuters and the overall population is mobile, but there are still clear differences between weekdays and weekends. ends when it comes to listening to music.
The graph below illustrates the average number of minutes per hour spent listening to music on weekdays. From 6 a.m. to 7 a.m., listeners listen to an average of 11 minutes of music. That's among all Americans ages 13 and older, including those who don't listen. A lot of people aren't even awake at this time. The graph shows similar viewing amounts throughout the morning with some fluctuation, then a small dip from noon to 1 p.m. Music listening peaks between 3 and 4 p.m. on weekdays.

As this second graph shows, the pattern of listening to music is different on weekends. Listening starts a little slower, as expected, but steadily increases throughout the morning. Music listening peaks between 10am and 11am on weekends. The weekend chart has a decidedly different shape to our weekday chart.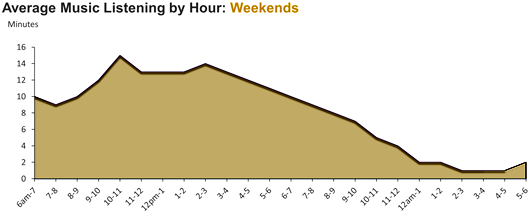 When the two charts are combined, it is easy to see that once hourly weekend viewing exceeds weekday levels, it stays that way well into the evening. From 9 a.m. to 11 p.m., weekend music listening exceeds weekday music listening.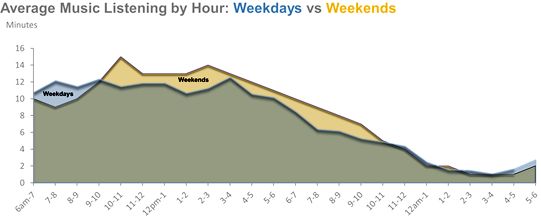 Where does listening to music on weekdays and weekends differ the most? From 7 a.m. to 8 a.m., weekdays are furthest from weekends. From 10am to 11am, weekends definitely have the edge with the biggest lead over weekdays. The weekday peak of 3-4pm isn't quite enough to match weekends at the same time, supporting the idea that weekends were made for music.