Scooper Bowl arrives at Patriot Place
Patriot Place in Foxboro hosts the Jimmy Fund Scooper Bowl on Thursday, August 19. The annual fundraising event supports adult and pediatric cancer and care research at the Dana Farber Cancer Institute. In light of the pandemic, the Jimmy Fund is offering cooler kits this year that can be taken home and enjoyed. You can also sponsor a box to give to a Dana-Farber health hero. Scooper Bowl kits are available for pre-order at https://jimmyfund.gives/JimmyFundScoop. Each kit includes ice cream for 4-6 people as well as toppings, cones and other treats. Participants will be able to pick up their kits from 4 p.m. to 8 p.m. at the Patriot Place 20C parking lot, adjacent to the CVS Pharmacy and Starbucks. The standard kit costs $ 50 and the premium kit costs $ 75.
Oscar winner visits MMAS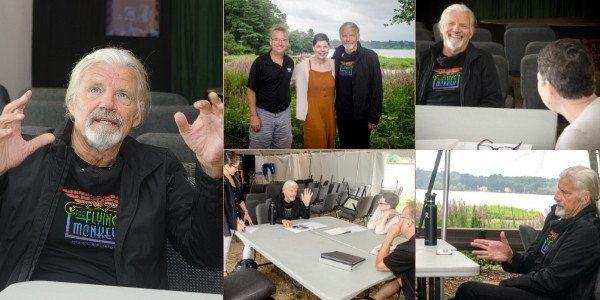 Ernest Thompson, screenwriter, playwright (author of "On Golden Pond"), director, actor, lyricist and teacher, visited the Mass Music & Arts Society in Mansfield on Monday to discuss his upcoming play "Ask / Answer", which will premiere at MMAS in January. Thompson and his wife, Kerrin, joined MMAS Director of Arts and Education Dori Bryan Ployer and MMAS Executive Director Ken Butler to discuss details of the play.
The Red Cross needs blood
Forest fires, record heat and a busy hurricane season can also impact the country's blood supply. In addition to the toll of extreme weather events that claim millions of lives, disasters can shut down blood clinics or prevent donors from donating safely. Eligible donors can help overcome the critical need for blood and ensure blood is readily available by making an appointment to donate. Use the Red Cross blood donor app by visiting RedCrossBlood.org, call 1-800-RED CROSS (1-800-733-2767) or activate the Blood Donor skill on any Alexa Echo device. As a thank you, those who donate in August will receive a special four-month free Apple Music offer via email (new subscribers only).
The following training sessions are organized in the region:
Attleboro – Tuesday, August 17, 2 p.m. to 7 p.m., American Legion Post 312, 437 Newport Ave. (Route 123).
Franklin – Thursday, August 19, 1 p.m. to 6 p.m., Church of Jesus Christ of Latter-day Saints, 91 Jordan Road.
Attleboro, Friday, Aug. 20, 11 a.m. to 4 p.m., Emerald Square Mall, 999 South Washington St. (Route 1).
Attleboro – Sunday, August 22, 9 a.m. to 2 p.m., La Salette Sanctuary Visitor Center, 947 Park Street.
Do you have an interesting news item that you would like to see mentioned in the Along the Way column? Email it to Emma Leeuwenburgh at [email protected]