Coby Langham, Company Driver, Downey & Sons
Age: 42
Past jobs: Roofer, heavy equipment operator
Ever come across a web-recording artist whose work was so good you were stunned that they weren't better known? For me, Coby Langham fits perfectly into this category; but here's the icing on the cake – he's also a trucker. His beautifully crafted songs run the gamut from gear-locking toe taps to ballads brimming with southern gothic poetry gleaned from the fertile fields of Kentucky's opioid crisis, songs so clever they'll make you laugh at audibly, or, as the case may be, so sincerely elegiac that even the most stoic listener is likely to crack wide open.
2019 had been a banner year for Langham. His Coby Langham and The Citizen Band EP, "Years on The Road", was mentioned in the same breath as "Country Squire" by Tyler Childers and "Sound and Fury" by Sturgill Simpson by the publication "Kentucky Country Music", who dubbed Langham's effort one of the top 10 in the Commonwealth that year.
Something seismic was happening in the Bluegrass State. One writer called it a "country music insurrection" and artists like Simpson and Childers were at the forefront. But Langham was quietly making his own mark, with his own style.
"I would consider that honky-tonk music," he told me when I finally got to meet him at this year's Mid-America Trucking Show. "It's a big part of what I gravitate towards. It's what I listen to. When someone listens to it, I want them to say, 'I listen to country music.' The actual sound comes from my friend Tom Hnatow from Lexington, who produced everything we've done so far, and he played all the steel guitar parts."
Supported by Jason Sinkhorn and Zane Hilton, both songwriters themselves, Langham shared the festival bill with John Prine, The SteelDrivers and Colter Wall, to name a few. RAround the time recognition for his work was poised to reach critical mass, however, March 2020 arrived and reconfigured everything. For Langham, who has spent the past 12 years as a corporate driver for Downey & Sons, a pallet supplier in Springfield, Kentucky, there was little time to grieve. "Things at work have been so busy. That and everything going on with our family."
Hear a lot more about his story and his music in today's special "Faces of the Road" edition of Overdrive Radio:
Also in the podcast: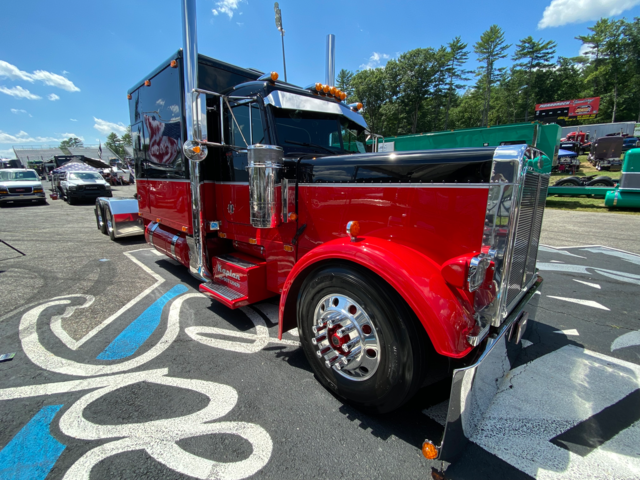 We will fall into Overdrive Editor-in-chief Alex Lockie's tour through the Gear Jammer event two weeks ago at Monadnock Speedway in Keene, New Hampshire, where among others he met Pennsylvania-based owner-operator Arien Ruell and his Peterbilt 379 "Ten Dimes" from 1993. It's a special truck, for Ruell something of a monument to the relationships forged throughout history in and around and under the machine. Catch more Lockie story views on this via this link. As you'll hear in the episode, it also turned out to be a special day for Ruell.